Hey, everyone!
As you probably noticed, this past weekend the winners of the INSPY awards
were announced!
I was very blessed to be a part of the General Fiction judging panel this year and I'm already looking forward to next year! ;-D Anyway, now that the winners have been announced I thought I would write up some quick mini-reviews of the five nominated books, including the winner. Stick around, there's a surprise at the bottom!
I'm going to start off with the other books and save the winner for last. Sound good? Great, here we go.
Iscariot by Tosca Lee
Personally, I LOVED
Iscariot
! It shows that Ms. Lee did her research on Jewish customs and traditions. She doesn't give us too much information and keeps the balance right. Having done some study on Jewish feasts, this book was fascinating for me. However, I recommend this book with caution. I suggest readers to be sixteen-seventeen or older due to some minor content in the novel.
Widow of Gettysburg by Jocelyn Green
Widow of Gettysburg was probably my favorite novel out of the five. I connected with Liberty off the bat. I also really enjoyed the historical setting/fresh look at the war and those impacted. I studied the Civil War in depth for school last year and it was nice to see such accuracy and care taken. I highly recommend this novel to historical fiction lovers out there.
To Know You by Shannon Ethridge and Kathryn Mackel
I struggled with To Know You. While the theme and underlying message were great, I didn't connect with the characters easily. This book is written for an age group above me, and this contributed to my struggle. It also took me time to adjust to the head-jumping/many points of view. Nonetheless, I believe that women anywhere from their early-to-mid-twenties and up will enjoy this book and get a lot out of it.
When Mountains Move by Julie Cantrell
Unfortunately, I have not read the first in this series. If I had, reading this book might have been easier on me. Cantrell's characters are well formed and the story is well developed but overall, the book fell short due to some confusion at the start. That being said, I plan on going back and reading the first book to hopefully get a better grasp on Millie and her past. I recommend this novel to those who enjoy reading historical fiction, particularly the late 1930s and early 1940s.
Last, but not least, the INSPY winner!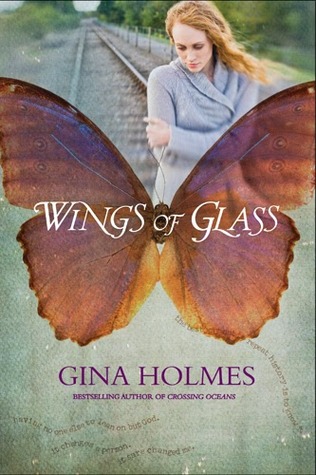 Wings of Glass by Gina Holmes
Wings of Glass is written as the main character telling a story. Ms. Holmes truly made Penny and her friends come alive off the page. It probably wasn't easy penning a story about spousal abuse. For me, this book was hard to read at times, due to some of Penny's idiotic decisions. However, I'm sure that any woman under Penny's circumstances might have done the same thing. I do not recommend this book lightly, the topic is a hard one to swallow at times but if you're up for it then by all means read it!
To celebrate Wings of Glass receiving the INSPY award, I'm giving away a copy of the book! Enter using the Rafflecopter below.
a Rafflecopter giveaway
*I received all the books for the INSPYs from their publishers, thanks!