My Review:
An intricately woven mystery set in the beautiful Regency era.
I'm a bit behind on Ms. Klassen's books, as this title was released in 2014, however I shall enjoy every second of catching up! When I saw this beauty on the shelf at my local library I unashamedly snatched it off the shelf, determined that this book would be coming home with me.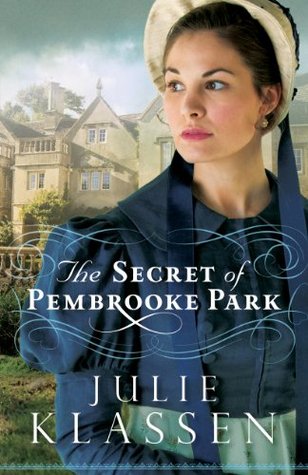 I don't know about you but I just love this time period. It's reminiscent of the early seasons of
Downton Abbey
, with butlers and housemaids and footmen. This era also possesses a charm like that found in
Pride and Prejudice
. It is for this reason that I eat up Ms. Klassen's works (though, not literally). The stories and characters are so masterfully crafted and put together,
The Secret of Pembrooke Park
being no exception to this.
In this novel we meet the Foster family, who have come upon hard times. Out of the blue, they are offered a tenancy at an abandoned house. They accept. Abigail and her father move there directly to tidy up the place while her mother and sister remain in London for the season. As they clean, Abigail detects something strange about the place and seeks to uncover the mystery.
While this isn't my favorite novel, I will say I do love a good mystery. This story offers a relaxing mystery--it is by no means a thriller--to enjoy while you lounge on your couch or bed. Once you've started reading, it quickly becomes harder and harder to put down. Ms. Klassen pens her stories in such a way that you find yourself glued to the book, easily able to imagine everything happening in your mind's eye. This is a trait I really value in books. I want to be able to
see
it. Anyway, I generally pride myself in solving mysteries fairly quickly, so I applaud Ms. Klassen because she gave me a run for my money!
If Regency style is your thing, or you like Austen's novels, I can easily recommend this novel to you. I don't think you'll be disappointed.
Back Cover:
Abigail Foster fears she will end up a spinster, especially as she has little dowry to improve her charms and the one man she thought might marry her--a longtime friend--has fallen for her younger, prettier sister.
When financial problems force her family to sell their London home, a strange solicitor arrives with an astounding offer: the use of a distant manor house abandoned for eighteen years. The Fosters journey to imposing Pembrooke Park and are startled to find it entombed as it was abruptly left: tea cups encrusted with dry tea, moth-eaten clothes in wardrobes, a doll's house left mid-play . . .
The handsome local curate welcomes them, but though he and his family seem to know something about the manor's past, the only information they offer Abigail is a warning: Beware trespassers who may be drawn by rumors that Pembrooke contains a secret room filled with treasure.
Hoping to improve her family's financial situation, Abigail surreptitiously searches for the hidden room, but the arrival of anonymous letters addressed to her, with clues about the room and the past, bring discoveries even more startling. As secrets come to light, will Abigail find the treasure and love she seeks...or very real danger?
I checked out this book at my local library, no review required.