My Review:
A marvelous, historic tale set in the early 1900s!
I loved Ms. White's previous historical series,
The Culper Ring
, so I have been yearning to lay my hands on this recent series of hers,
Ladies of the Manor
. As I am a bit behind on my reading I have not had the pleasure of reading the first book,
The Lost Heiress,
however this did not detract from my reading experience in the slightest!
The Reluctant Duchess
is a great stand alone, though to my understanding it does incorporate characters from the prior book.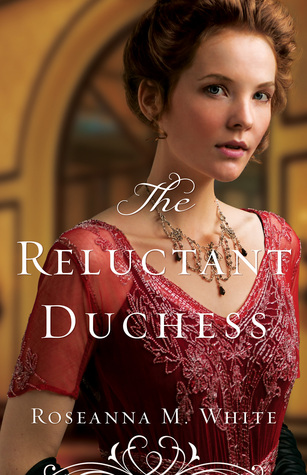 Rowena is our leading lady in this title. I grew very attached to her--right off the first page! I'm pretty sure I fell in love with her accent too. Wow! She's been so hurt in the past that she's weary of new acquaintances--especially the ones thrust upon her--but her relationship with her younger step-sister was precious. Her character arc was really well done. Ms. White, I felt, progressed Rowena's growth at a realistic and reasonable pace. I adored how everything came together.
The way this story was crafted made me feel transported back in time. The details of the era are enough to bring your imagination to life, without overwhelming you. This time period holds such a magnificent elegance and
The Reluctant Duchess
does not disappoint.
Overall I was pleased with this novel
,
its story-line, and its characters, I have already placed a hold on
The Lost Heiress
at my local library, and I cannot
wait
to pick it up. Nor can I wait for
A Lady Unrivaled
's release later this year. Ms. White's writing is incredible and I highly encourage you to check this one out at the earliest opportunity-- especially if you love historical novels. ;-)
I received this book from the publisher in return for an honest review of my opinions, which I have done. Thanks!
Back Cover:
Lady Rowena Kinnaird may be the heiress to a Highland earldom, but she has never felt good enough—not for her father, not for the man she thought she'd marry, not for God. But after a shocking attack, she's willing to be forever an outcast if it means escaping Loch Morar and the men who have jeopardized her life.
Brice Myerston, the Duke of Nottingham, has suddenly found himself in possession of a rare treasure his enemies are prepared to kill for. While Brice has never been one to shy away from manor-born ladies, the last thing he needs is the distraction of his neighbor, Lady Rowena, who finds herself in a desperate situation. But when the moody Earl of Lochabar tries to trap Brice into marrying Rowena, Brice finds he's not as opposed to the idea as he expected to be.
Rowena wanted to escape the Highlands, but she's reluctant to resort to marrying a notorious flirt just to gain his English home. And when she learns that Brice is mixed up in some kind of questionable business with a stolen treasure, she 'fears she's about to end up directly in the path of everything she was trying to avoid.