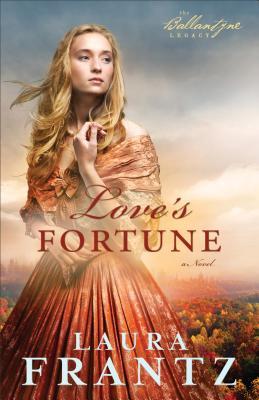 My Review:
Marvelous release from Frantz!
Frantz takes you back in time and makes the past come alive. You feel present among the characters wherever they are, from booming Pittsburgh or the back country woods of Kentucky. My favorite location is probably Ellie and Jack's home, River Hill. Despite the close quarters they have, when you read those scenes you just feel a great sense of love and family. It's easy for me to imagine Wren happy there over the cold environment of her Aunt Andra's presence. I fell in love with each of the newly introduced characters like Izannah and Wren. This novel was beautiful from beginning to the very end. The danger and the romance combined make a wonderful pair. I wish I had enough time to make this review longer, but this shall have to suffice. If you've enjoyed the rest of the series then I know you'll love this one too.
Love's Fortune
, for me, is a definite favorite in the series though it doesn't quite top
Love's Reckoning
. ;-)
I am extremely thankful to the author for sending me a copy! I offer my
sincerest apologies to both the author and publisher for the late review, I have had less time than I thought I would to read. Thank you again. :)
I received a copy of this novel from the author in return for an honest review of my opinions, which I have done. Thanks!!
Back Cover:
Sheltered since birth at her Kentucky home, Rowena Ballantyne has heard only whispered rumors of her grandfather Silas's vast fortune and grand manor in Pennsylvania. When her father receives a rare letter summoning him to New Hope, Rowena makes the journey with him and quickly finds herself in a whole new world--filled with family members she's never met, dances she's never learned, and a new side to the father she thought she knew. As she struggles to fit in during their extended stay, she finds a friend in James Sackett, the most valued steamship pilot of the Ballantynes' shipping line. Even with his help, Rowena feels she may never be comfortable in high society. Will she go her own way . . . to her peril?
With her signature attention to historical detail, Laura Frantz brings 1850s Pennsylvania alive with a tender story of loss, love, and loyalty. Fans will cheer for this final installment of the Ballatyne saga.