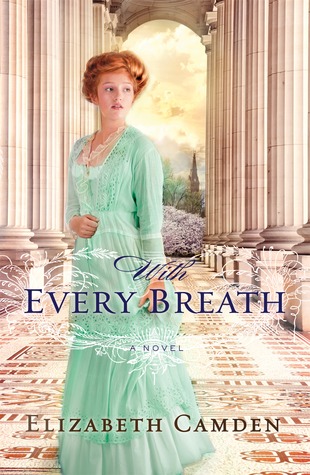 My Review:
What a touching story!
Once again Miss Camden brings us a wonderful story with heart and soul. In
With Every Breath
, our primary characters are seeking a cure for Tuberculosis. This journey and battle against the raging disease is heart-wrenching. We meet characters stricken with this disease only to watch them slowly succumb. These moments are poignant and written with care. The emotional aspect of this story is only made more powerful by...oh. Right. Spoilers! ;)
Both Trevor and Kate completely transform from the people they were at the start of the book. Their development as a romantic couple and as individuals are well-handled. It was easy to identify or at least relate to Kate early on, but it took longer for me to warm up to Trevor's cold facade. Other minor characters came to life off the page; fully giving this world a realistic touch.
Overall,
With Every Breath
comes just shy of my favorites list. The setting pops off the page, the mystery holds you to your seat, and the characters will warm your heart. If you have read and enjoyed Miss Camden's other novels then I would encourage you to read this one. For those new to Miss Camden, if historical romance is your slice of pie, then I encourage you to read this novel as well. I recommend to readers ages sixteen and older.
I received this book from the publisher in return for an honest review of my opinions, which I have done. Thanks!!
Back Cover:
In the shadow of the nation's capital, Kate Livingston holds a respectable position as a government statistician when she encounters a rival from her past, the insufferable Trevor McDonough. A Harvard-trained physician, Trevor never showed the tiniest flicker of interest in Kate, and she's bewildered at the way he suddenly seeks her out. Surprising even herself, Kate agrees to Trevor's entirely unexpected and risky proposal to work side-by-side with him in his quest to rid the world of tuberculosis, a contagious and deadly disease.
As Kate begins to unlock the mysteries of Trevor's past, she realizes there is much more to him than she could have imagined. His hidden depths may fascinate her, but his most closely guarded secrets and a shadowy enemy lurking in the background carry a serious threat to their future.
When the truth of the past comes out, threatening to destroy everything they hold dear, how will Trevor and Kate ever overcome all that stands in their way?