First off, I am getting this review up terribly late. My sincerest apologies to Tyndale and Ms. Dotta!!
My Review: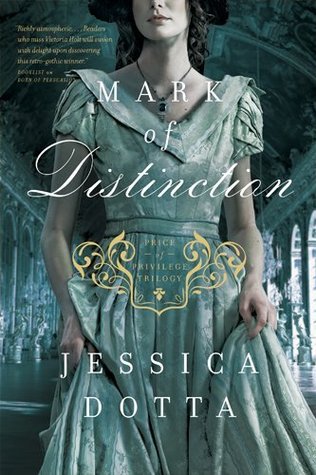 A lovely story reminiscent of the classics!
Mark of Distinction is technically the second in a so-far marvelous series. I have not had the privilege of reading the first, but I will be remedying this. That being said, it did take extra effort to get into the story, but once I was sufficiently hooked there was little stopping me from turning the page. Dotta writes a marvelous story in a fresh, new perspective.
At times, my like for Julia, the main character, swung back and forth like a pendulum. I couldn't figure her out! There were times I wanted to comfort her and times I wanted to shake her. This is probably the trait that makes her a good character, no matter how frustrating. She definitely is indecisive and I didn't like some of the choices she made.
Nonetheless, I have to gush about Isaac for a moment. Talk about the perfect gentleman! I think it's safe to say I much prefer Isaac as a suitor for Julia over Edward; although I haven't read the first book so maybe that will change my opinion. Isaac is pretty awesome though... Ahem, moving on.
I am truly impressed and in awe with Ms. Dotta's fantastic piece of art. I cannot believe we must wait until next year for the conclusion!! It seems an eternity to wait after such a ending. Before I close out this review, I will say the story had a dark/depressing atmosphere for the whole novel, adding to the Gothic feel. I highly and easily recommend this novel to readers familiar with Bronte and Gothic fiction at least fifteen or older.
I received this book from the Tyndale Blog Network in return for an honest review of my opinions, which I have done. Thanks!
Back Cover:
London is said to be the glittering jewel of society, a world unto itself—but to Julia Elliston it is a city of shadows. Her life is swiftly dissolving into scandal. And in Victorian society, even a whisper of scandal—substantiated or not—can be the death of a young woman's reputation.
When Julia discovers that Lord Roy Pierson, her guardian and one of most influential men in England, is the father she has never met, she begrudgingly accepts his protection. But Chance Macy's power is far-reaching as well.
Thrust into society as the Emerald Heiress, Julia is the toast of London, a celebrated curiosity. But in reality she's trapped between the clutches of two powerful men. Aided only by a gentleman whose intentions she prays she can trust, Julia must finally take control of her own fate—but outwitting one's foe rarely goes according to plan.