My Review: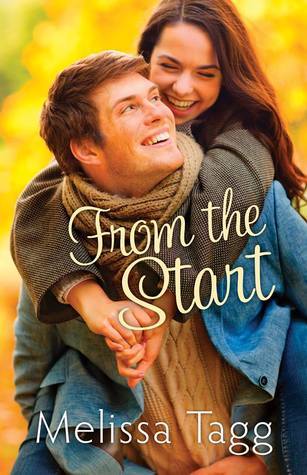 A cute, endearing release from Ms. Tagg!
Kate Walker is spunky, energetic, and full of love for her family and those close to her. But in the romance department, she shuts down with fear. Kate is the kind of heroine that you cheer for and urge onward. I felt she was well characterized and developed. Her compassionate heart won me over after meeting Breydan. As for Colton, his personality was gentle but yet impulsive as well. The greatest lesson he learned was how to surrender control to God and allow Him to work. Overall, Colton and Kate complement each other and bring out the other's strengths. They're a perfect match!
From the Start is a romantic, cute, and funny read to enjoy on a Sunday afternoon with a cup of tea. The story has all the elements of a sweet story, complete with a small-town! This book is not one that should be overlooked. I will remember it for its sweet setting of Iowa, her compassion-filled characters, and the simple message to trust God to work things out. I can easily recommend this book to fans of her earlier works, Made to Last and Here to Stay. I haven't had the privilege of reading Here to Stay just yet, but I'm certain it is just as good. This book is aimed at women, young and old. I specifically recommend ages sixteen or older. :-)
I received this book from Bethany House in return for an honest review of my opinions, which I have done. Thanks!!
Back Cover:
Kate Walker used to believe in true love and happily ever after. While her own love life may have left her brokenhearted, it hasn't kept her from churning out made-for-TV romance movie screenplays...until a major career slump and a longing to do something meaningful send her running back to her hometown of Maple Valley.
Permanently sidelined by an injury, former NFL quarterback Colton Greene is temporarily hiding out in a friend's hometown to avoid the media and the reminders of all he's lost. Maple Valley seems like the perfect place to learn how to adjust to normal life. The only trouble is he's never really done normal before.
While Kate plays things safe and Colton is all about big risks and grand gestures, they both get what it's like to desperately need direction in life. An unexpected project gives them both a chance to jumpstart their new lives, but old wounds and new dreams are hard to ignore. Starting over wasn't part of the plan, but could it be the best thing that's ever happened to them?
By the way... Don't forget to check back on Sunday!