My Review:
A masterpiece debut from Cambron!!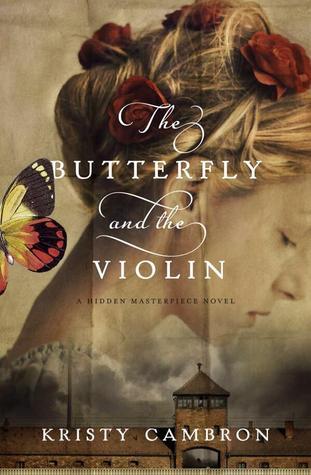 I missed out on reading this one when it initially released, but I did have the pleasure of reading the next title,
The Sparrow in Terezin
. I was giddy when I stumbled across
The Butterfly and the Violin
at my local library. And I was equally giddy when I finally had time to crack open the pages and dive right in. This novel takes us into Auschwitz, probably well known as the camp that killed the most people.
Friends, I will warn you, this isn't an easy book to read. Along with its sequel,
this book takes on the all-too-real horrors of World War II. Ms. Cambron spares us the more gruesome, violent details, of course, but she does not shy away from the truth. I admire her for taking on such a hard story. Because with all that said, this story is truly beautiful. It possesses heart and something else I pinpointed in the sequel,
hope
. Hope in the face of one's world tearing apart. Hope in the face of potential death.
But this is not just a World War II story about Adele, also sharing space in this book is modern-day Sera James' story. She's on a journey of her own seeking, perhaps not hope, but healing. And without giving too much away, I loved the way Ms. Cambron wove their stories together. Whenever we transitioned from story to story, I found myself eager to return to the prior story. Ms. Cambron's writing is engaging and powerful, so very powerful.
This
Hidden Masterpiece
series will forever be dear to me and shall be read over and over again. I highly recommend this one to anyone who values well written historical novels with a deeper message.
I checked this book out at my local library, no review required. :)
Back Cover:
A Mysterious painting breathes hope and beauty into the darkest corners of Auschwitz--and the loneliest hearts of Manhattan.
Manhattan art dealer Sera James watched her world crumble at the altar two years ago, and her heart is still fragile. Her desire for distraction reignites a passion for a mysterious portrait she first saw as a young girl--a painting of a young violinist with piercing blue eyes.
In her search for the painting, Sera crosses paths with William Hanover--the grandson of a wealthy California real estate mogul--who may be the key to uncovering the hidden masterpiece. Together Sera and William slowly unravel the story behind the painting's subject: Austrian violinist Adele Von Bron.
A darling of the Austrian aristocracy of 1942, talented violinist, and daughter to a high-ranking member of the Third Reich, Adele risks everything when she begins smuggling Jews out of Vienna. In a heartbeat, her life of prosperity and privilege dissolves into a world of starvation and barbed wire.
As Sera untangles the secrets behind the painting, she finds beauty in the most unlikely of places: the grim camps of Auschwitz and the inner recesses of her own troubled heart.