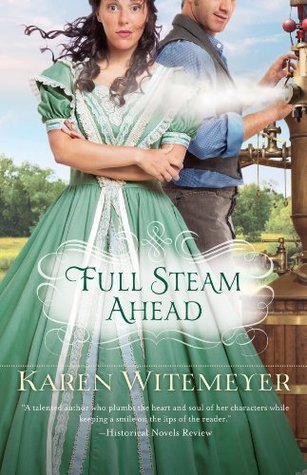 My Review:
A cute, funny, new release from Witemeyer!
I can't say that
Full Steam Ahead
is a new favorite, BUT I extremely enjoyed Nicole and Darius. Their chemistry drew me deeper into the story, and I loved their banter. Together, they were great. I liked watching Darius come out of his shell, and Nicole learning to let others into her heart. The story and the plot itself is well developed, but I struggled with accepting it. For me, I wasn't convinced how realistic it was, but it is fiction so I will give the author that. In all other areas, the research was evident.
Darius struggles with something I believe many new Christians can relate to, such as forgiving yourself for whatever mistakes you've made in your past. I LOVED how Witemeyer handled this. I'd say more, but you need to read it for yourself. All in all, Darius felt very real, given his past and circumstances.
Nicole too, seemed to come alive off the page. She's determined, intelligent, and compassionate all in one. Her greatest fault is her determination to keep her loved ones safe. This normally wouldn't be a bad thing, but Nicole does make some mistakes, like anyone. Ultimately, she wasn't my favorite character but I really loved reading about her time spent with Darius.
This is the kind of book historical fiction lovers will appreciate and adore. I easily recommend it to fans of the genre and fans of Mrs. Witemeyer. I recommend readers be fifteen or older for readability and some scenes.
I received this book from Bethany House in return for an honest review of my opinions, which I have done. Thanks!
Back Cover:
Nicole Renard returns home to Galveston, Texas, to find her father deathly ill. Though she loves him, Nicole's father has always focused on what she's not. Not male. Not married. Not able to run Renard Shipping.
Vowing to find a suitable husband to give her father the heir he desires before it's too late, Nicole sets out with the Renard family's greatest treasure as her dowry: the highly coveted Lafitte Dagger. But her father's rivals come after the dagger, forcing a change in Nicole's plans.
After a boiler explosion aboard the Louisiana nearly took his life, Darius Thornton has been a man obsessed. He will do anything to stop even one more steamship disaster. Even if it means letting a female secretary into his secluded world.
Nicole is determined not to let her odd employer scare her off with his explosive experiments, yet when respect and mutual attraction grow between them, a new fear arises. How can she acquire an heir for her father when her heart belongs to another? And when her father's rivals discover her hiding place, will she have to choose between that love and her family's legacy?