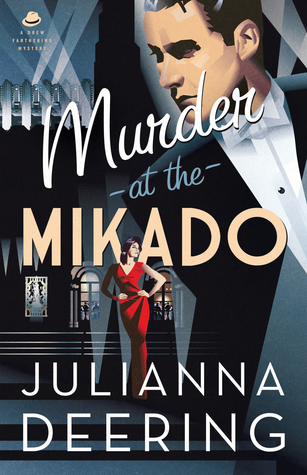 My Review:
Another fantastic Drew Farthering mystery by Ms. Deering!
While I am far too busy to have a lazy afternoon to spend reading, during my available my spare time you had to fight me to get this book out of my hands. The depth of the mystery and the pacing of the overall story were about on par. Not to mention the many twists and curves to keep you guessing along the way! I went into the novel eager for a fresh mystery, and Ms. Deering came through.
Something I look for particularly in mystery novels is a shocking reveal. Let me say, I have never read a book where the culprit was... Oh, wait. I can't tell you. ;-) Read the book for yourself!! I was pleasantly shocked I had not figured it out. But, moving past the whodunit excitement, I loved a couple of the new characters we met, particularly Peter. I'm a sucker for adorable, fictional kids. Maybe it's because they represent their real-life counterparts well.
Well, to wrap up this review, I must say I've become so attached to Drew, Nick, and Madeline over the course of these books, that I dearly hope this is not the end of their adventures! It's safe to say that if you have read and enjoyed the previous books,
Murder at the Mikado
, will definitely suit your fancy. Whether you're a fan of the 1930s, or the mystery genre, or both, you should enjoy this new release. I recommend to readers at least fifteen or older for readability.
I received this book from Bethany House in return for an honest review of my opinions, which I have done. Thanks!
Back Cover:
Just as Drew Farthering thinks his life has found smooth waters, Fleur Landis, an old flame, reappears in his life. She's married now, no longer an actress, and he expects she'll soon disappear--until she comes to him in dire need. The lead actor in her old troupe's production of The Mikado has been murdered, and Fleur is the police's number one suspect.
Drew would love nothing more than to just focus on his fiance, Madeline, and their upcoming wedding, but he can't leave Fleur in the lurch--even if she did break his heart once. As Drew, Nick, and Madeline dive into the murder, they discover more going on behind the scenes of the theater troupe than could ever have been imagined. Nearly everyone had a motive, and alibis are few and far between. It's Drew's most complicated case yet.