My Review:
This book was a dream!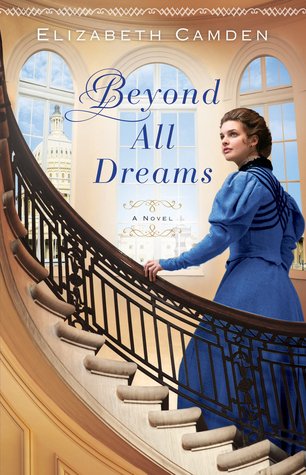 Ms. Camden does so well with her historical novels. I've been impressed with each novel I've had the pleasure of reading. In this particular story I thought she did a superb job handling the historical information so that you weren't bored, but rather fascinated. She touches on a place in history that I am unfamiliar with, so I found the story enchanting overall.
In
Beyond All Dreams
we meet Anna O'Brien (whose last name had me thinking of Downton Abbey!) and Luke Callahan. Both characters felt extremely well-rounded and each seemed real. Anna had a rough childhood, losing both her parents as well as experiencing great trauma. Luke, on the other hand, suffered a different kind of childhood, which was equally unpleasant. In my humble opinion I feel it is critical for a character to act according to his/her background and personality, and I felt like Ms. Camden accomplished that with both lead characters.
In conclusion, I loved getting this up close look at the United States of America in the late nineteenth century. Each historical aspect was handled with care and presented well. I loved that, even though the mystery was fictional, Ms. Camden seamlessly wove it into this time period. I look forward to reading her future books!
I checked this book out at my local library; no review required.
Back Cover:
Anna O'Brien leads a predictable and quiet life as a map librarian at the illustrious Library of Congress until she stumbles across a baffling mystery of a ship disappeared at sea. She is thwarted in her attempts to uncover information, but her determination outweighs her shyness and she turns to a dashing congressman for help.
Luke Callahan was one of the nation's most powerful congressmen until his promising career became shadowed in scandal. Eager to share in a new cause and intrigued by the winsome librarian, he joins forces with Anna to solve the mystery of the lost ship.
Opposites in every way, Anna and Luke are unexpectedly drawn to each other despite the strict rules forbidding Anna from any romantic entanglement with a member of Congress.
From the gilded halls of the Capitol, where powerful men shape the future of the nation, to the scholarly archives of the nation's finest library, Anna and Luke are soon embroiled in secrets much bigger and more perilous than they ever imagined. Is bringing the truth to light worth risking all they've ever dreamed for themselves?