My Review:
In light of the new Les Mis movie, I jumped at the chance to review this Audio drama from Tyndale.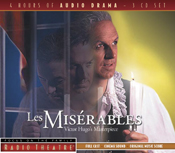 Focus on the Family takes the book written by Victor Hugo and turns it into a marvelous story you can listen to with the whole family. (It recommends ages 12+.) I loved the cast, they were wisely chosen and well suited to their roles.
Les Miserables is a moving story of redemption, forgiveness, and doing the right thing even when you don't want to. Jean Valjean, convicted for stealing some bread, served nineteen years for his crime. Now back out in the world, no one will accept him. He gets set back on the straight and narrow by a kind priest. Jean then goes out to change his life, hoping to leave the name Jean Valjean behind forever.
Having never read the book, it was fascinating to see what parts of Les Mis were not included in the musical. I was glad to see there wasn't much cut for the musical, and that what was cut or changed wasn't crucial to the story.
All in all, this was a great listen! If you have older children, this might be a fun thing to play for the family before you go see the movie. It's about three hours total. (Great for car rides!)
I received this audio drama from Tyndale in return for an honest review of my opinions.